Networks
24×7 Emergency Services
If you have immediate needs and cannot wait simply contact us as we will be there. Please note a surcharge will be assessed if after 6pm and on weekends UNLESS you are a contract customer.  Monthly Maintenance – Monthly customers get priority services, and the piece of mind that were are a phone call away. Where we can provide instant Phone Support, Remote Dial-in Support and In Office services. We will manage your workstation's critical updates and monitor virus activity. We will also maintain your offices file security and block threats. These are only a few of the many items.
Outsource IT Services
Whether or not your company should outsource a specific business function is always a complicated question for small businesses. For some business services — legal work or equipment maintenance, for example — it just makes the most sense to trust the professional with very specific experience.   If your company does not need a fulltime IT professional on staff or the overhead associated with a full time employee.  Avanti Networks can provide solution by providing IT Services ON-Demand and regular maintenece which include, Updates, Virus Protection and Scanning, Installation services and much more.
Network Evaluation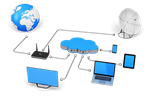 Not sure where you stand with technology? Are you losing money because you are not automating processes? Do you need a new perspective on your network? Avanti Networks Inc. can come to your office and provide an evaluations and a road map to your future endeavors.
Project Management
Need to upgrade you whole network and you need experience people to coordinate this move? We can provide the know-how and the ability to to avoid the pitfalls of managing a big projects from Mail Server integration to new network roll-outs.
Mail Server
Do you need the ability to control you own mail services at a price effective manner. We can help you setup everything from an Microsoft Exchange Server to a Linux Send Mail Server.